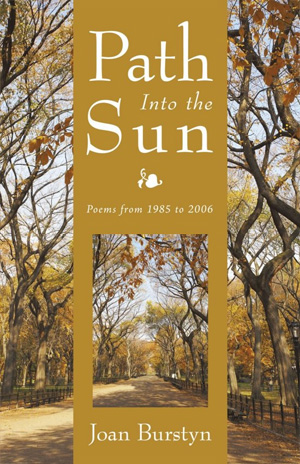 Path Into the Sun: Poems from 1985 to 2006
By Joan Burstyn
Published by iUniverse, 2009
Publisher | Amazon | Barnes & Noble | Indie Bound
In Path Into the Sun, award-winning poet Joan Burstyn shares her beautifully intense collection of lyrical free verse. With an engaging style, Burstyn weaves together her internal musings and images from nature in this her third volume of poetry. Such universal emotions and experiences as forgiveness, grief, loneliness, lessons learned, and the value of friendship are highlighted as Burstyn leads others down a path of personal reflection sure to invigorate, and inspire.
Excerpts
Flood Waters
Composed & sung by Ben Worrall
Composed & sung by Lisa Levens
Accompanied by Todd Hobin, guitar; Brett Hobin, bass; Gary Lucas, percussion;
Recorded at Hobin Studios; Engineer: Andrew Sudol
I am afraid of letting go.
My moorings hold me safe.
If I let go, I may be blown
downstream away from reason.Like Mississippi flood waters,
my desires press hard their banks.
I feel the pressure rising,
levees collapsing with the weight,
flood waters surging.
Lessons
Composed & sung by Elias Lieberman
What did you teach me?
To be compassionate,
to weigh the evidence,
to pause before deciding
who is right and who is wrong.What did you teach me?
To argue forcefully each case,
present the facts in order,
and persist when challenged.
Yet to reach you through emotion.What did you teach me?
That none of us is perfect.
That you and I are human
and have our limitations, both.What did you teach me?
That integrity has many faces.
Yours entailed an action I abhorred.
You taught me a new grief.
Healesville Sanctuary, Victoria
Wide-eyed, bewildered as a wakened child,
a wombat looks up at the humans
viewing it. We walk the sanctuary
as though we own it, talking loudly
like teenagers let out of school,
but wombats, emus, and kangaroos
are regulars, expansive, calm,
like neighbors at a bar,
just tolerating us intruders.
A Black Bird Caught My Eye
From the top deck, we watched the ship
turn slowly toward the dock.
I felt the wind becoming stronger
as the boat turned. It blew me
almost off my feet, the gusts so strong.
As I scanned the water, a black bird
caught my eye, flying low across the waves,
making no headway against the wind.
Again and again it fluttered closer to the waves,
hunting for fish, I thought, waiting to dive.
And yet, the bird was not a cormorant or gull.
It seemed a crow or blackbird. And as I watched,
it dropped down into the water and disappeared.
I scanned the surface of the sea for yards around,
but saw no head appear, no ruffled feathers,
only the water with its white caps in the wind.I think our flight in life is similar to that bird's.
We migrate from city to shore and back.
We survive long journeys without sustenance,
buoyed upward when the wind's behind us,
battling it when the wind's head on,
until, one day, exhausted like the bird I saw,
we, too, plunge into the ocean.
Grace
A hotel guest, the woman in her sari
moved serenely as an ocean liner
across the waters of a shining sea.
She was a princess from India,
the rumor ran, accompanied by a retinue
of servants. Maybe she was,
or maybe not, I never knew.
She walked with grace that caught my breath.
Attentive to the chatter swirling round,
she still preserved a stillness,
like a painting of a delicate gazelle.Each day that week, she walked the patio
and smiled at me as I, beside the pool,
a teenager, beset by doubts,
watched her with awe,
vowing to become like her,
to learn such calm, such grace.
I had no understanding then
how hard that task might be.
Images