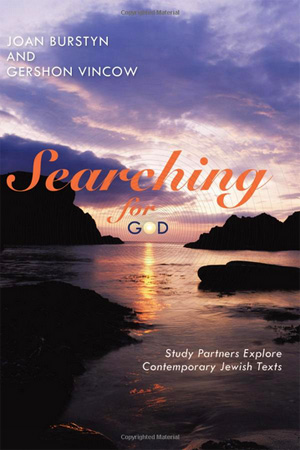 Searching for God: Study Partners Explore Contemporary Jewish Texts
By Joan Burstyn and Gershon Vincow
Published by iUniverse, 2011
Publisher | Amazon | Barnes & Noble | Indie Bound
When your schedule is so full you have little time for taking more classes, or attending more lectures, yet you are seeking a spiritual path of your own, where can you turn for help? Joan Burstyn and Gershon Vincow's new book Searching for God: Study Partners Explore Contemporary Jewish Texts offers a solution.
Searching for God describes a novel partnership: a self-directed hevruta, where study partners choose their own times to meet, and their own texts to study. Unlike a conventional hevruta, guided by a teacher, Burstyn and Vincow, both lay people, drew on their own interests to select their study choices. These range from mystical and rational theology to Reveltation at Sinai and non-traditional Judaism. They recommend a self-directed hurveta as a great way to build on the adult learning already provided by our Jewish communities.
"This book successfully probes the most basic questions anyone should ask: What do I mean when I use the word 'God'? And how does the answer affect the way I live?" writes Edward D. Zinbarg, member of the Congregation Oheb Shalom, board member of the Jewish Theological Seminary Rabbinical School, and the author of Faith, Morals and Money: What the World's Religions Tell Us about Ethics in the Marketplace.
After studying the books, Burstyn, an historian and poet, and Vincow, a scientists and community leader, then wrote the letters recorded in Searching for God. Sylvia Boorstein, author of Happiness is an Inside Job: Practicing for a Joyful Life, writes "This touching and inspiring account of the commitment of two friends to study texts and share their insights with each other on behalf of their own, and each other's connection to holiness could well be titled Thinking as a Spiritual Path. Celebrating intellect as an instrument of prayer, this book will serve as a template for seekers across religious traditions who long for a spiritual practice that satisfies their minds as it gladdens their hearts."
The book is bound to capture the interest of readers as the authors plumb the depths of the emotional and intellectual content of Jewish theology.